Located in the Asian hub of Singapore, an ideal place for holding international exhibitions and conferences, Raffles Translation is in the best possible position to provide professional interpreting services for both its local and overseas clients.
Raffles Translation provides highly experienced interpreters of major Asian languages for all scenarios where interpreting services are required, including but not limited to consecutive interpreting (SI), simultaneous interpreting (SI), whispering interpreting (WI), teleconference interpreting (TI), escorting interpreting (EI), etc.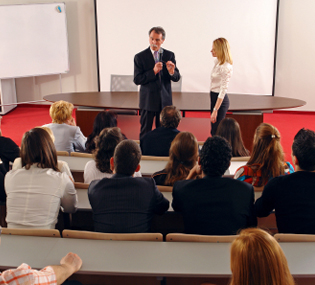 Consecutive Interpreting
Consecutive interpreting is the most common type of interpreting, where your speaker delivers a few sentences and then stops while our interpreter translates what has been said into another language.
On-site consecutive interpreting is mostly used for small group or one-on-one meetings, such as seminars, interviews, training sessions, business meetings, medical consultation, marriage registration, press releases, court hearing, etc. or even whispering to an individual participating in a conference.
As such interpreting is not performed in real time and does not require any specialist equipment, it is considerably cheaper than that of simultaneous interpreting.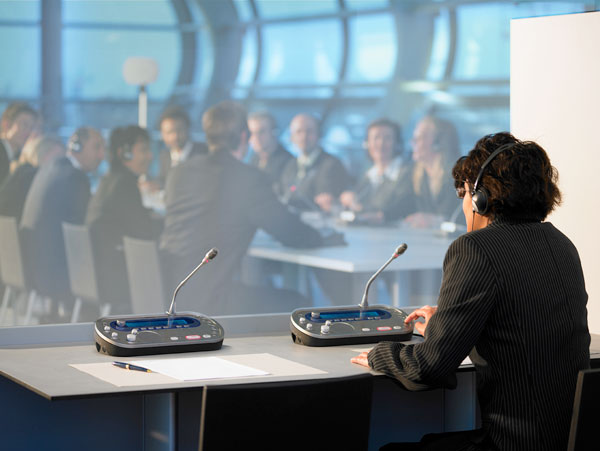 Simultaneous Interpreting
Simultaneous interpreting, as the name suggests, is when the interpreters' translation is done at the time of the exposure to the source language or delivered at the same time as what is said by the speaker on the stage. Simultaneous interpreting is generally used for formal international conferences or focus group discussions.
When providing simultaneous interpreting service, our interpreters (normally two for one language pair) would sit in a soundproof booth working in turn, transmitting their version to audiences through audio equipment to enable all delegates to understand.
As simultaneous interpreting is done in real time and there are no second chance to correct, interpreters must get it right the first time. As such, it requires the highest level of interpreting skill and quickest speed of reaction. For your assurance, all our simultaneous interpreters have a minimum of 6 years professional experience and many have in-depth knowledge in their chosen fields, such as law, medicine, life science, IT, banking or finance.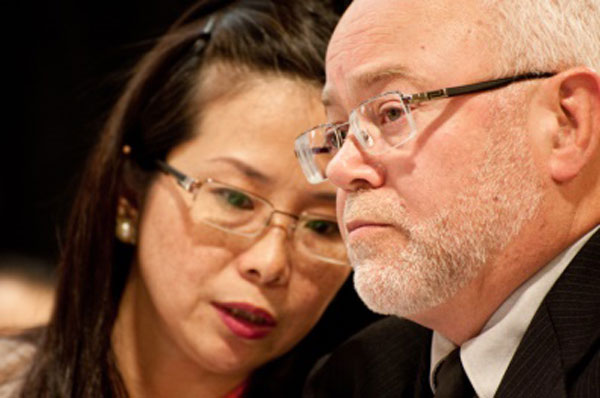 Whispering Interpreting
When you have only one or two guests that need interpreting service, you may think of hiring one SI interpreter to provide them with the same service as they may otherwise enjoy under simultaneous interpreting. This will, obviously, help you save the cost of hiring the complete equipment.
Whispering Interpreting is where the interpreter sits next to the person needing to understand the target language and whispers it in his/her ear. And the interpreting is near real-time.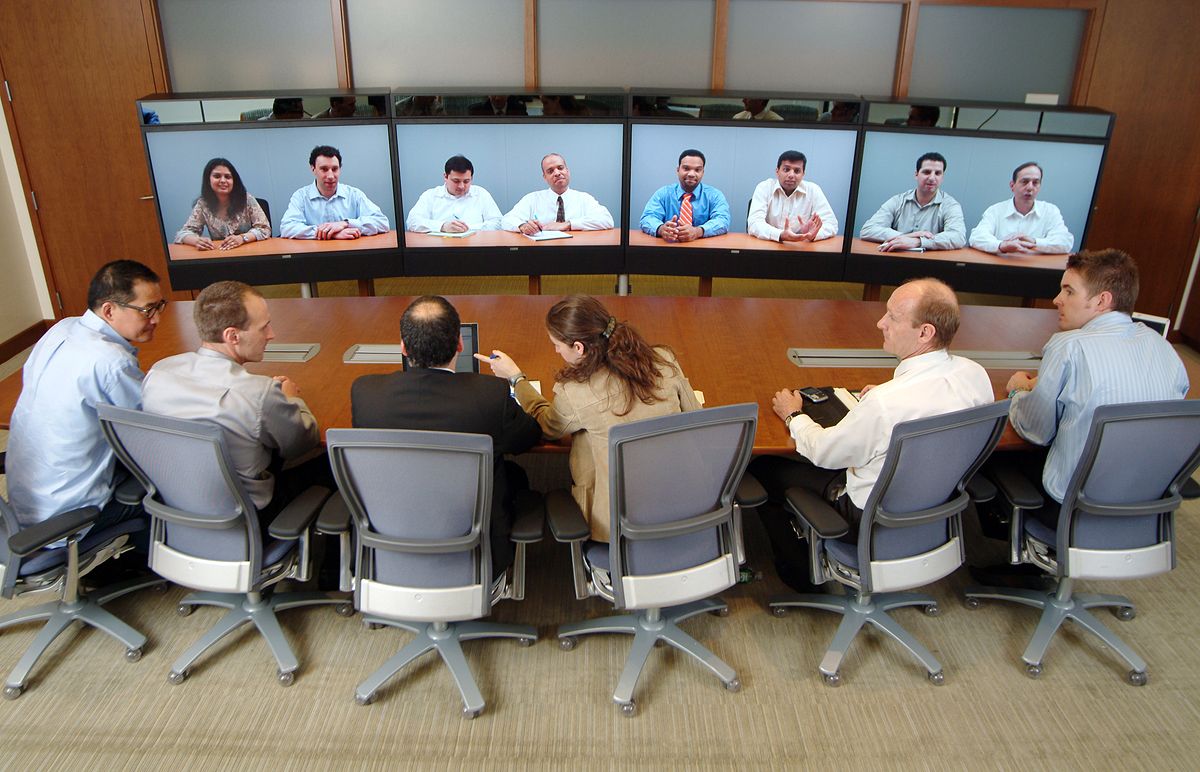 Teleconference Interpreting
Teleconference Interpreting is the most efficient and cost-effective way of holding a small meeting where our consecutive interpreter can call in from our premises to serve your purpose. As the interpreter does not have to travel to your chosen site, the fee is much lower than that of consecutive interpreting.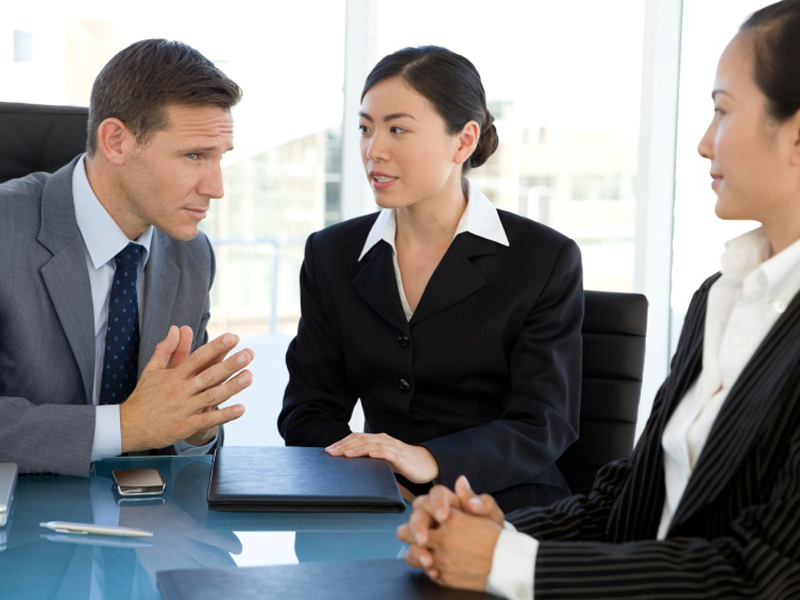 Escort Interpreting
Escort Interpreting is the interpreting service we provide to you or your guest visiting Singapore or any other country of Asia from Europe or America on either a business or sightseeing excursion.
In escort interpreting, an interpreter accompanies a person or a delegation on a tour, on a site visit, or to a meeting or interview. An interpreter in this role is called an escort interpreter or an escorting interpreter.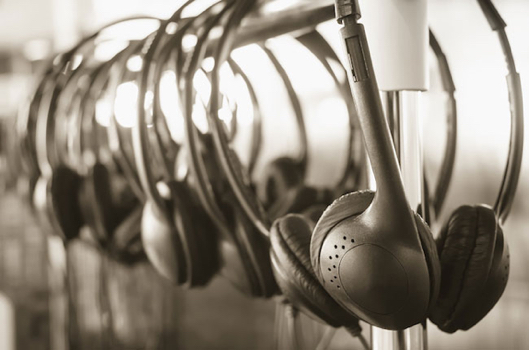 Interpreting Equipment
Besides simultaneous interpreters, we also provide the conference interpretation equipment for hire together with an experienced technician to be on-site throughout the event to tackle whatever problems may arise.
2 PERSON INTERPRETER BOOTH C/W LAMPS AND VENTILATORS
Description
A soundproof booth is required for providing simultaneous interpreting service for each language pair. It will be installed in a suitable position to enable the viewing of the head table and lectern location. The booth also comes complete with all electronics and lights to facilitate your required languages.
Quantity
The number of booths to be provided will be depending on the number of language pairs; for example, if you have delegates from Japan, Korean and China, then you will need to book 3 booths for translation from English to these 3 languages,  and RELAY will be introduced if  more than 2 languages are involved.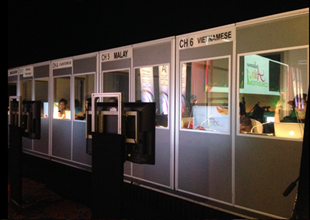 DUAL INTERPRETER CONSOLES C/W HEADSETS AND MICS
Description
An interpreter console is provided for each interpreter inside the booth.
The output channels are preset and the interpreters' output is then programmed to a specific channel, for example
Channel 0 – Floor
Channel 1 – English
Channel 2 – Mandarin
Channel 3 – Korean
Channel 4 – Japanese
Channel 5 – Vietnamese
Quantity
Simultaneous interpreting requires two interpreters work together for each language pair and rotate at 30-minute intervals in order to get themselves concentrated.  So a total of 2 interpreter consoles will be provided in each booth.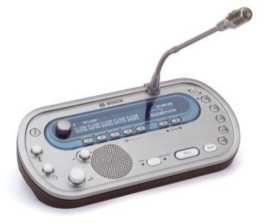 CHANNEL TRANSMITTER/CENTRAL CONTROL UNIT
Description
An Integrus Digital Transmitter is provided to transmit the interpreter's translation from the IDesks to the delegates' infrared receivers. It will be connected to the DCN Central Control unit via fiber optic cable.
Radiators will be connected with the transmitter for the infrared transmission.
Quantity
One unit is enough.


BOSCH RADIATORS C/W STANDS FOR EVENT COVERAGE
Description
Radiators will be put on stands around the room to ensure sufficient coverage of the infra-red signal in the room allowing delegates to receive the simultaneous Interpretation from any location in the room.
Quantity
Depending on the space of the meeting room, there are normally 4~5 radiators being provided.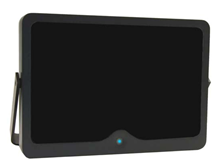 INFRACOM RECEIVERS C/W CHARGING TRAY AND SPARES
Description
A Delegate' Digital Infrared Receivers up to 32 channels are provided complete with headsets. They are tuneable to any of the languages specified for the conference in advance.
Quantity
The number of headsets will be provided according to the number of audiences that need interpreting service.
So when requesting us to quote on the equipment, you are expected to let us know the total number of headsets needed.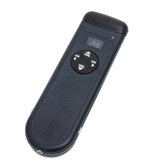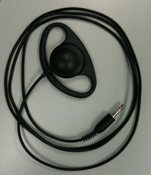 Description
The delegate unit can be provided at client's request for raising questions at Q&A session.
– Low susceptibility to mobile phones interference
– Built-in loudspeaker
– Channel selector with number and abbreviated channel name
Quantity
The delegate unit will be provided at the request of the client. Some clients need it, but some do not.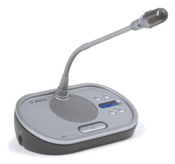 STANDBY CONFERENCE TECHNICANS THROUGHT THE EVENT
Description
A standby technician will be assigned throughout the event in order to tackle whatever technical problems that may arise during the meeting.
Quantity
Normally there is only 1 technician being around.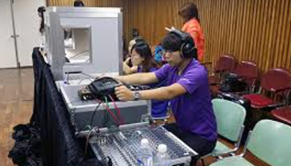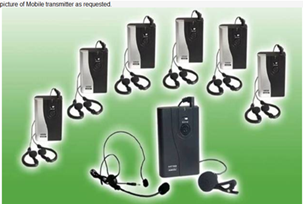 You can choose to use our wireless tour guide system when the simultaneous interpreting service you need involves a site visit that requires people move from one place to another, or on-site meeting where it is too costly to hire the complete equipment for the small size of conventioneers.
A wireless tour guide system consists of 1pc transmitter + 1pc receiver, with 50 meters effective transmission range. One transmitter can be operated with multiple receivers within the operating range.
Illustrations of the Interpreting Service We Have Provided
Just CLICK HERE to get a Free Quote on our Specialized Interpreting Service or call us at +65 6570 6028.